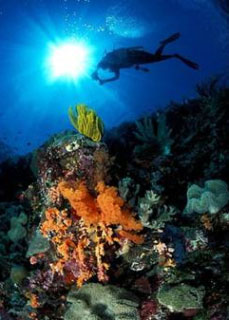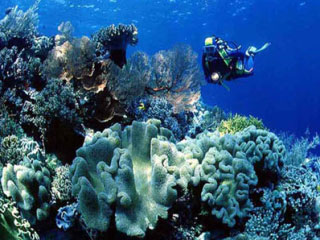 Join us on our next adventure! Group ocean trips are great not only because of the price, but you will be diving with people you know. You will also have one of our experienced instructors or divemasters on the trip – John has been traveling throughout the Caribbean and Pacific for 40 years. John is the only certified travel guide in Central Illinois for tours to the far Pacific.  As group leaders, they can determine dive sights and advise on land tours, restaurants, etc. We also have opportunities to share pictures, trip video, and memories at home. We can also arrange trips to many locations at a time that is better for your schedule. Please check with us as we can often give you a better price.
For dive insurance go to www.diveassure.com.  Refer us as your dive center for better service.  For exotic travel and most complete coverage Diveassure or DAN insurance is recommended.
2018-19 Trip to the Pacific: Bali/Wakatobi (Sulawesi), Indonesia
 Join us for our 2019 winter trip to Wakatobi, Indonesia.  Wakatobi is a luxury dive resort in southeastern Sulawesi, Indonesia. In a tranquil island setting far from crowds and cities, with no other divers for at least 100 miles, Wakatobi seamlessly blends five-star amenities and civilized comforts with a pristine natural environment; a pairing that has secured its reputation as one of the world's finest resorts. Tentative dates: December 28 – January 7 or 8, 2019 with one week on Wakatobi or December 28 – January 15 with two week at Wakatobi. Starting price is approximately $3200,  which includes  all meals, transfers, and unlimited diving.  You will experience some of the best diving in the world. Under $2060 for nondivers.  Flight from Bali to Wakatobi is $810.  We have found flights from Chicago to Bali for $888 (have never seen them that low; usually somewhere between $1200-2000).  Discounts for two week stay, return customers.  This will be my 3rd trip to the best land based operation I have ever been on.   Go to www.wakatobi.com to get more information. This is a trip of a lifetime or a place you will want to come back to again.  Recommended departure time from the US is December 26 or 27 which will get you to Bali on the 28th or 29th.
Anthony's Key, Roatan, Honduras, March 31 – April 7, 2018
We are returning for another trip to Anthony's Key.  Book early to the room you want. 
   Prices range from $1619 to $2249 plus 19% tax.  But wait that is for two divers.  First person pays and the 2nd one goes for free.  So price works out to be as low as $963.31 per person for a standard hillside room and $1296.51 per person for a superior Key.    26 signed up!
This all inclusive resort will be celebrating it's 50th year of serving customers.  All meals are included, three boat dives per day for the divers and unlimited shore diving.  Book early to request  your desired lodging.  Also available are dolphin show, snorkel, and/or dive, shark dive, zip line excursion, and more.  There is an extra charge for these excursions although you may see dolphins and sharks on your regular dives.  Airline prices are  available and I would suggest booking as early as possible.
    Lower prices now available out of Chicago.
We have 26 travelling to Anthony's Key.  The resort is almost full.  Call John as soon as you can if you are still interested!  New flight out of Chicago just became available for around $800.  Many have paid over $1000 for their tickets.
Little Cayman Beach Resort, January 27 – February 3, 2018.
Enjoy some of the best diving in the Caribbean.  Amazing walls, fish life, and even some wrecks.  Little Cayman Beach Resort is a fantastic resort on this remote island.  This trip is led by Steve Lehnert, one of our divemasters who loves this resort and the diving.  He has made at least a dozen trips and is returning again.  Price will vary depending on the package: 12 dives or 17 dives.   Chldren under 15 stay free and dive for free!
Tours with the Aggressor and other liveaboards!
Master Sweet available.  For other Aggressor, Explorer, or Dancer liveaboard specials give us a call.  Trips available to exotic locations such as Palau, Indonesia, Maldives, Saba and more.