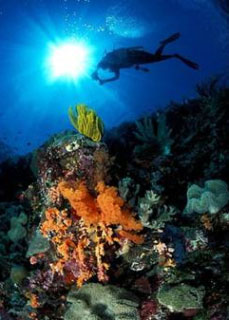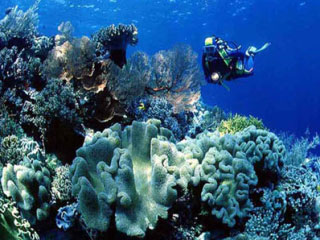 Group ocean trips are great not only because of the price, but you will be diving with people you know. You will also have one of our experienced instructors or divemasters on the trip – John has been traveling throughout the Caribbean and Pacific for 40 years. John is the only certified travel guide in Central Illinois for tours to the far Pacific.  As group leaders, they can determine dive sights and advise on land tours, restaurants, etc. We also have opportunities to share pictures, trip video, and memories at home. We can also arrange trips to many locations at a time that is better for your schedule. Please check with us as we can often give you a better price.  See Aggressor specials at the bottom! 
For dive insurance go to www.diveassure.com.  Refer us as your dive center for better service.  For exotic travel and most complete coverage Diveassure or DAN insurance is recommended.
Check for space on our  Juliet/Bahamas, and our Pacific trip to Indonesia (check on spaces available on the boat).  Taking deposits for our 2018 trip to Roatan!
22 divers and nondivers enjoyed a great week at Cayman Brac Reef Resort, April 9-16, 2017.  Beautiful secluded resort, one of our favorites, on the small island of Cayman Brac.  Trip was led by John and Lauri. Ocean view from every room, great food, brand new pool close to the beach, hot tub, and some of the best diving the Caymans has to offer including walls, wrecks, the Russian destroyer ,Tibbets, night dive, and more.  
Komodo, Indonesia, Jul 15-22, 2017

        Join us for another trip to the far Pacific.  We will be heading for Indonesia departing July 10 or 11 and stay on the island of Bali for a few days of touring and relaxing at a deluxe hotel.   July 15 -22 we cruise on the Mermaid II for 6 days of fantastic diving including the pristine reefs of the Komodo Islands.  All meals, 20 dives for approximately $2820 (price can fluctuate with the euro) .  Flight from Chicago to Bali is approximately $1300.  Additional cost will be hotel, tips, tours on the island of Bali.  Nitrox, park fees not included.  Go to http://www.liveaboard.com/mermaid.  Ten are already signed up.  We have found flights for under $1200!  ($1163 as of 11/14/17)   There still may be one or two spaces available on this fabulous trip.  Otherwise join on a future trip to the Far Pacific.
Anthony's Key, Roatan, Honduras, March 31 – April 7, 2018
We are returning for another trip to Anthony's Key.  Book early to the room you want. 
   Prices range from $1619 to $2249 plus 19% tax.  But wait that is for two divers.  First person pays and the 2nd one goes for free.  So price works out to be as low as $963.31 per person for a standard hillside room and $1296.51 per person for a superior Key .  Nondiver rate is less!  About half the spaces have been spoken for by return customers!
This all inclusive resort will be celebrating it's 50th year of serving customers.  All meals are included, three boat dives per day for the divers and unlimited shore diving.  Book early to request  your desired lodging.  Also available are dolphin show, snorkel, and/or dive, shark dive, zip line excursion, and more.  There is an extra charge for these excursions although you may see dolphins and sharks on your regular dives.  Airline prices are  available and I would suggest booking as early as possible.
In the spring of 2016 we had 26 travelling to Anthony's Key and we had to turn some customers away as the resort filled up.  Call John on how to purchase your tickets at the best possible price out of Peoria!
Bahamas on the Juliet:   Price is $1690 ($1890 for deluxe suite) for the week.  Need a $250 deposit. June 10-16 of 2017, led by George Driggs. Dive on remote sites.  Great sealife with an abundance of turtles.  All meals and beverages included.  Ensuites are $1890 or less per person. This trip is now full!
Let us know if you are interested in another week on this popular dive boat.
Tours with the Aggressor and other liveaboards!
Master Sweet available.  For other Aggressor, Explorer, or Dancer liveaboard specials give us a call.  Trips available to exotic locations such as Palau, Indonesia, Maldives, Saba and more.