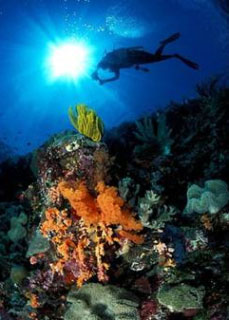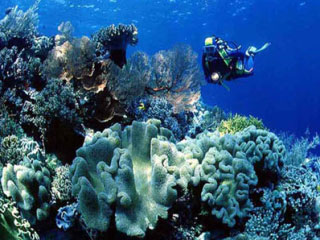 Join us on our next adventure! Group ocean trips are great not only because of the price, but you will be diving with people you know. You will also have one of our experienced instructors or divemasters on the trip – John has been traveling throughout the Caribbean and Pacific for 40 years. John is the only certified travel guide in Central Illinois for tours to the far Pacific. As group leaders, they can determine dive sights and advise on land tours, restaurants, etc. We also have opportunities to share pictures, trip video, and memories at home. We can also arrange trips to many locations at a time that is better for your schedule. Please check with us as we can often give you a better price.
For dive insurance go to www.diveassure.com. Refer us as your dive center for better service. For exotic travel and most complete coverage Diveassure or DAN insurance is recommended.
2019 Spring trip to Cozumel Mexico
Sign up now for a week at the Occidental Grand, April 13-20. All inclusive resort on beautiful San Franciso beach. $1375 for diver; $931 for nondiver. All meals, drinks, nonmotorized sports. A number of different restaurants to dine at. Includes 12 dives. Drift dive along famous Cozumel walls in some of the clearest Caribbean waters. We are 18 rooms at 2018 pricing. $200 per person to hold you space. Once you sign up we will let you know other activities that you can enjoy on the island. Unused space will be released early February 2019.
7 nights at the Occidental Cozumel in a Deluxe Room features 423 sq ft of space with one King or two Double Beds, bathroom with bathtub, a sitting area, beautiful views of the gardens, and a terrace or balcony. Includes All meals and beverages, Hotel taxes, 6 days of 2 tank dives. Free Nitrox (a $100 value). The first day of diving will be at 1 pm and all the other days can be at 8 am. A departure tax of 180 pesos (roughly $18 USD) which is nearly always included in your ticket. There are 15 signed up for the trip! Must commit by February.
2020 Spring trip to Anthony's Key, Roatan, April 4-11, 2020. There will more information available later.
Our 2019 winter trip to Wakatobi, Indonesia, is full. Just returned from another amazing trip. Ask about future trips to Indonesia.
Interested in a luxury liveaboard trip in the Bahamas. Can get up to $200 off from now until April of 2019 on the Aquacat. Additional discount with a group of 6. This is only available through your divestore. Aquacat cruises from Nassau to the remote Exuma Islands. Great variety of unlimited diving. All meals, drinks for around $2000 depending on room type.
Phillipines, July, 2019 or end of December, 2018/January, 2019 trip. Two week trip staying at LemLunay Resort. Enjoy 21 or more dives in the beautiful waters of the Phillipines. Includes a day trip to see water falls/zip line/boat tour on Lake Sebu, a day trip to see the largest fish port in SE Asia, all transportation, airfare from Chicago to General Santos, meals and hotel stays based on two to a room. Approximately $3400. Price will vary with airline prices. Let by divemaster and soon to be instructor, Jim Cheney, who travels there frequently and has arranged for some great pricing. This is your chance to experience some great Pacific diving at a very reasonable price. Group size is limited.
We had a great trip at Anthony's Key, Roatan, Honduras. We plan to return in 2020! This all inclusive resort celebrated its 50th year of serving customers. All meals were included, three boat dives per day for the divers and unlimited shore diving. Let us know if you want to join us in 2020 so you can get your desired lodging. Also available are dolphin show, snorkel, and/or dive, shark dive, zip line excursion, and more. We had 26 travelling to Anthony's Key this year.
We can book Little Cayman Beach Resort, Brac Reef Resort, as well as an all inclusive resort on Grand Cayman at lower prices. They are some of our favorite dive resorts!
Enjoy some of the best diving in the Caribbean. Amazing walls, fish life, and even some wrecks. Little Cayman Beach Resort is a fantastic resort on this remote island. . Price will vary depending on the package: 12 dives or 17 dives. Children under 15 stay free and dive for free!
Tours with the Aggressor and other liveaboards!
Master Sweet available. For other Aggressor, Explorer, or Dancer liveaboard specials give us a call. Trips available to exotic locations such as Palau, Indonesia, Maldives, Saba and more.